With increased support from the WSIA, Bonnier Corp, and relentless efforts from event founders Zane Schwenk and Shaun Murray, the third annual #PassTheHandle Day was nothing short of spectacular on July 24, 2016.
"Mini-Grants"
New for this year, sponsors donated grant money, which went to social media marketing and mini-grants to eight different parks and schools around the US. This money covered gas and operational costs to host first-timers at no charge on July 24.
---
Bonnier Goes Big
The publishers of WAKEBOARDING and WATERSKI Magazine stepped up their game this year for #PassTheHandle, delivering 1.6 million impressions through a social media campaign including the audience with BOATING Magazine. Several new, exclusive videos were produced, including Shaun Murray's "How To Teach Kids" as well as interviews with top pro riders on the Pro Wakeboard Tour. Cory Teunissen's video performed the best. Watch it HERE.
---
The Boarding School Hits UCF
The most creative use of grant funding came from The Boarding School. This current "Camp/School of the Year" walked around the University of Central Florida campus, plucking random first-timers and treating them to a VIP experience at the camp in Bithlo, Florida. If you haven't seen the video, be sure to check it out HERE.
---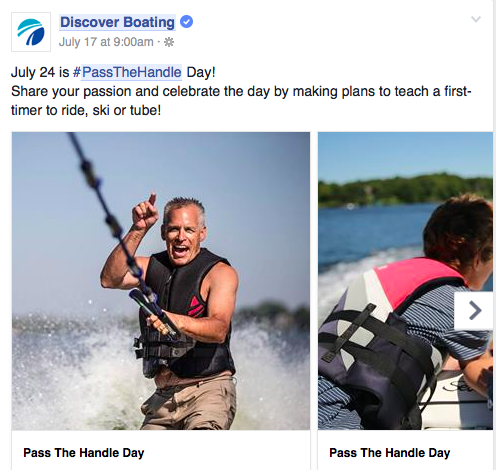 NMMA Support
The National Marine Manufacturers Association provided generous financial support again this year, promoting posts on Discover Boating's social channels as well as DiscoverBoating.com. With over 6,000 likes on Instagram, 2,000 engagements on Twitter and 3,500 engagements on Facebook, this social campaign also delivered impressions to over 1 million people.
---
Action Wake Park Makes A Weekend Out Of It
Michigan experienced a heat have with blue skies on July 24, which made Action Wake Park the best spot to cool off in Grand Rapids. Tom Fooshee lent his skills for this two-day event, which was one of the most successful #PassTheHandle initiatives worldwide. "We had first-time riders from 6 to 50 years old." Tom said. "It's safe to say we taught over 60 riders throughout the weekend. Action hosted birthday parties, which boosted participation, and then we also had Liquid Force demos for experienced riders. We saw over 250 people on the water over the weekend."
---
TSR Always Comes Through
Another huge supporter was Texas Ski Ranch in New Braunfels, Texas. Prior to the event, Blake Hess produced a video titled, "I Love Wakeboarding" to spread awareness. On the big day, the park hosted over 60 blind and disabled individuals and taught them how to ride, kneeboard and tube. With all three cables and the boat lake running, TSR helped make dreams come true on #PassTheHandle day.
---
Classic Murray
In typical Shaun Murray style, this legend went with a "pay it forward" approach on Lake Folsom, California and posted a video on Instagram and Facebook leading up to the event.
---
Zane Schwenk / Cypress Gardens Ski Team
There's a reason why Zane Schwenk is a legend, and his ambassador skills are a big reason why. This #PassTheHandle founder hosted an event with the Cypress Gardens Ski Team in Winter Haven, Florida, designed for first-timers to get on the water. Zane said, "We taught 56 people in 3 ½ hours before the storm moved in." Zane announced a career move to work for a major trucking corporation in Florida, but assured us that he will still be actively involved. "While I am out of the industry, my passion is not! I will still be involved with WSIA, so WEAR A VEST folks, and I will still push #PassTheHandle. Remember, teach someone new to ride as often as possible, give back to this AWESOME community and always remember, it's your responsibility to protect it always!"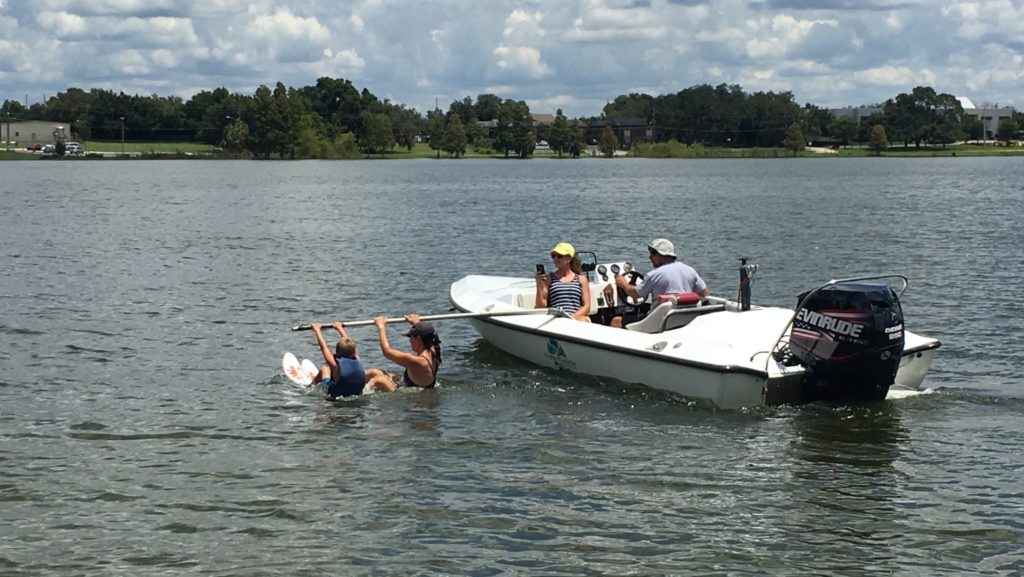 ---
Special thanks to the following sponsors: Bonnier Corp, Zane Schwenk, Jibtopia, Sammy Duvall's Water Sports Center, Kent Watersports, Roswell, Kwik Tek, MasterCraft, Zup Boards, Nautique, Boulder Boats, ProtoMet, Charlotte Ski Boats, BoardCo, Liquid Force, Tommy's, Malibu Boats, Minnesota Inboard